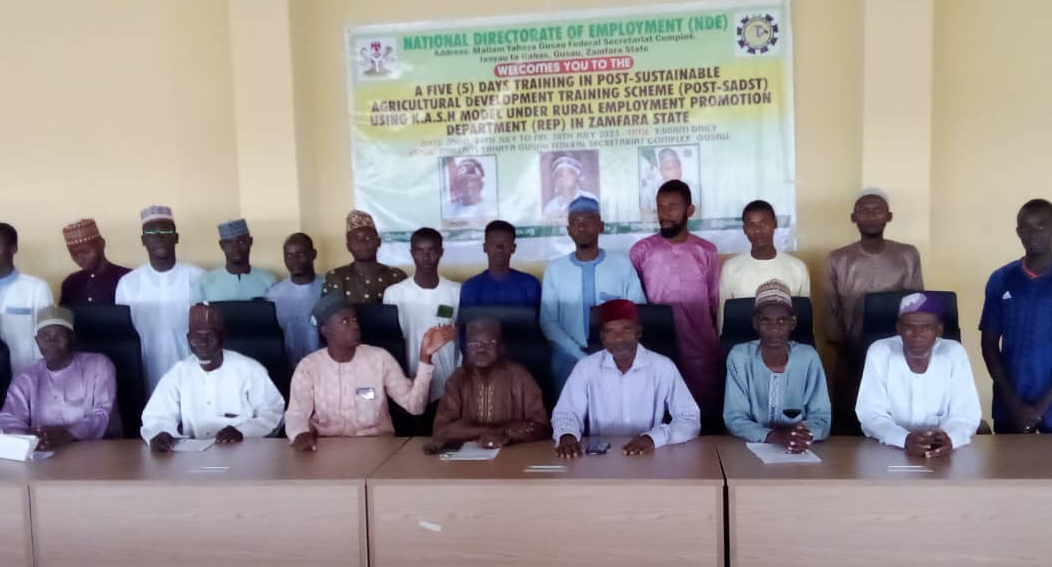 The National Directorate of Employment (NDE) has commenced orientation of participants of 2023 Post Sustainable Agricultural Development Training Scheme (P-SADTS) under its Rural Employment Programme.
In his speech during the opening ceremony of the training in Gusau Zamfara State capital, the Director General of the NDE Abubakar Nuhu Fikpo said the training was to give further impetus on the resolve of the NDE to bring Agriculture to its original pride of place in the national economy. Saying the main objectives of the Post Sustainable Agricultural Development Training Scheme (P-SADTS) was to empower the beneficiaries of the programmes to establish, grow and expand Agri-enterprises of their choice.

"This is against the backdrop of the fact that Agriculture was once the mainstay of the Nigerian economy and more especially in this part of the country." he stated
Fikpo noted the employment potentials of the Agricultural sector, therefore said, the training which was organized for 50 selected graduated participants of SADTS drawn from 3 senatorial districts of the state were mainly youths of different educational backgrounds and who indicated interest to take farming as a business venture.

The NDE Boss who was represented by Zamfara State coordinator Umar M Sanda, revealed that the training on agribusiness improvement strategies which was the first of its kind introduced by the directorate under his leadership, has demonstrated the Directorate's commitment towards the actualization of the goals of the Federal Government of diversifying the economy and creating jobs for the unemployed persons.
According to him, the give days training will cover aspects such as Agricultural intervention policies and their impact on employment generation; The importance of livestock, its by-products, and feed formulation for a sustainable agri-business venture; Use of improved agronomical practices and other agricultural inputs such as the use of chemical sprayers, herbicides, pesticides improved seeds, seedlings and fertilizer application to increase productivity in agribusiness; The place of improved varieties inputs in Agriculture for increased productivity; The economic important of raising livestock and its products in Nutrition and feeding; Insects and pest control measure to mitigate post harvest losses and Weed control methods and their impact on crop yield.
Others were: The place of improved varieties/inputs in agriculture for increased productivity; Weed control methods and their impact on crop yield; Introduction to Cooperative formation; Important of records keeping in Agric business; Business Plan Concept and Development.
The DG added that scheme will Provide agricultural skills; Provide more food; Create employment; Reduce poverty; Remove drudgery from the practice of agriculture; Encourage the youth to accept agriculture as means of livelihood; Expand the scope of sources of funding for agricultural projects and Enhance the quality of life for farmers and society as a whole, adding that the beneficiaries will be given a soft loans to commence the business after the training.
The NDE has designed the scheme to enhance food production, provide more profitable farm income, enhance quality of life for farm families, communities and provide mass employment.