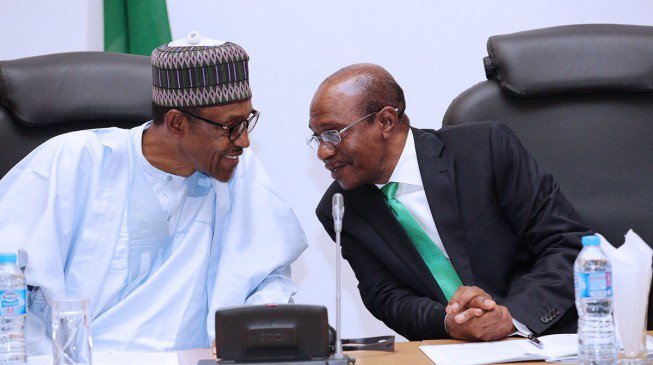 The Governor of the Central Bank of Nigeria, CBN, Godwin Emefiele, has said that President Mohammadu Buhari has approved the redesigning of three naira notes by December 15.
Addressing newsmen on Wednesday in Abuja, Mr Emefiele said the apex bank will redesign N100, N200, N500, and N1000 notes.
Mr Emefiele noted that the redesign followed widespread cases of counterfeiting of the higher denominations of N500 and N1,000 banknotes.
He said: "Although global best practice is for central banks to redesign, produce and circulate new local legal tender every 5–8 years, the Naira has not been redesigned in the last 20 years.
"On the basis of these trends, problems, and facts, and in line with Sections 19, Subsections a and b of the CBN Act 2007, the Management of the CBN sought and obtained the approval of President Muhammadu Buhari to redesign, produce, and circulate new series of banknotes at N100, N200, N500, and N1,000 levels.
"In line with this approval, we have finalized arrangements for the new currency to begin circulation from December 15, 2022. The new and existing currencies shall remain legal tender and circulate together until January 31, 2023 when the existing currencies shall cease to be legal tender.
"Accordingly, all Deposit Money Banks currently holding the existing denominations of the currency may begin returning these notes back to the CBN effective immediately. The newly designed currency will be released to the banks in the order of First-come-First-serve basis," he added.
Mr Emefiele, therefore, advised bank customers to begin paying into their bank accounts the existing currency to enable them withdraw the new banknotes once circulation begins in mid-December 2022.
"All banks are therefore expected to keep their currency processing centers open from Monday to Saturday so as to accommodate all cash that will be returned by their customers.
"For the purpose of this transition from existing to new notes, bank charges for cash deposits are hereby suspended with immediate effect.
"Therefore, DMBs are to note that no bank customer shall bear any charges for cash returned/paid into their accounts," the apex bank boss added.