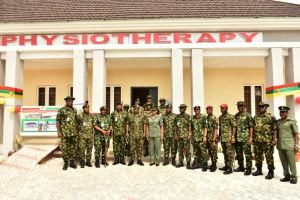 The Chief of Army Staff (COAS), Lt.-Gen. Faruk Yahaya, on Friday inaugurated a physiotherapy complex at the Jaji Military Cantonment Medical Centre in Kaduna.
He reiterated his commitment to improve all Army medical facilities to provide skilled and specialized management to personnel who sustain injuries.
"The Physiotherapy complex will facilitate treatment of injuries in veins and nerves, among other injuries that had hitherto not been attended to here; it will enhance and facilitate personnel quick recovery," he said.
Yahaya added that the physiotherapy complex would also facilitate treatment to those in need within the Cantonment, thereby making it easier to get timely medical intervention.
He said that the Army had been providing medical services, equipment and structures to various formations to give its troops immediate medical support when needed.
"Our enhancement and improvement of medical facilities across Army formations is very important to troops' morale.
"Administration is also important, and that is why we don't take it for granted, and thereby choose to build upon what our predecessor left," Yahaya said
The COAS also spoke on ongoing military operations, saying it has picked up tremendously, leveraging on enablers provided by President Muhammadu Buhari, and the renewed commitment of troops in various theatres of operation.
Yahaya assured that the operations would be sustained, and restated the Nigerian Army's commitment of improving on its successes.
"We shall live no stone unturned in the pursuit of those criminal bandits, kidnappers and terrorists, we shall continue to follow them wherever they are," he assured.
He said with the support of the Air Force, Navy and other security agencies, they will not relent in carrying out the orders of the Commander-in-Chief.
"The orders are clear: you carry arms and we send you to hell to account for your sins," Yahaya said.
Earlier, Lt-Col. Bolanle Suleman, Commanding Officer Jaji Military Cantonment Medical Centre, briefed the COAS on the state of the art medical equipment available to personnel and their families in the complex.
Also, Brig.-Gen. Francies Omata, Director Special Forces, Headquarters Infantry Corps Centre (ICC), on behalf of the Commander Infantry Corps, thanked the COAS for his immense support to the Corps.
The COAS also inspected ongoing projects within the Cantonment, which included the Infantry mess, zoological garden, Infantry school Swimming Pool, GTAG complex and Rigger Tower of the Airborne Wing.