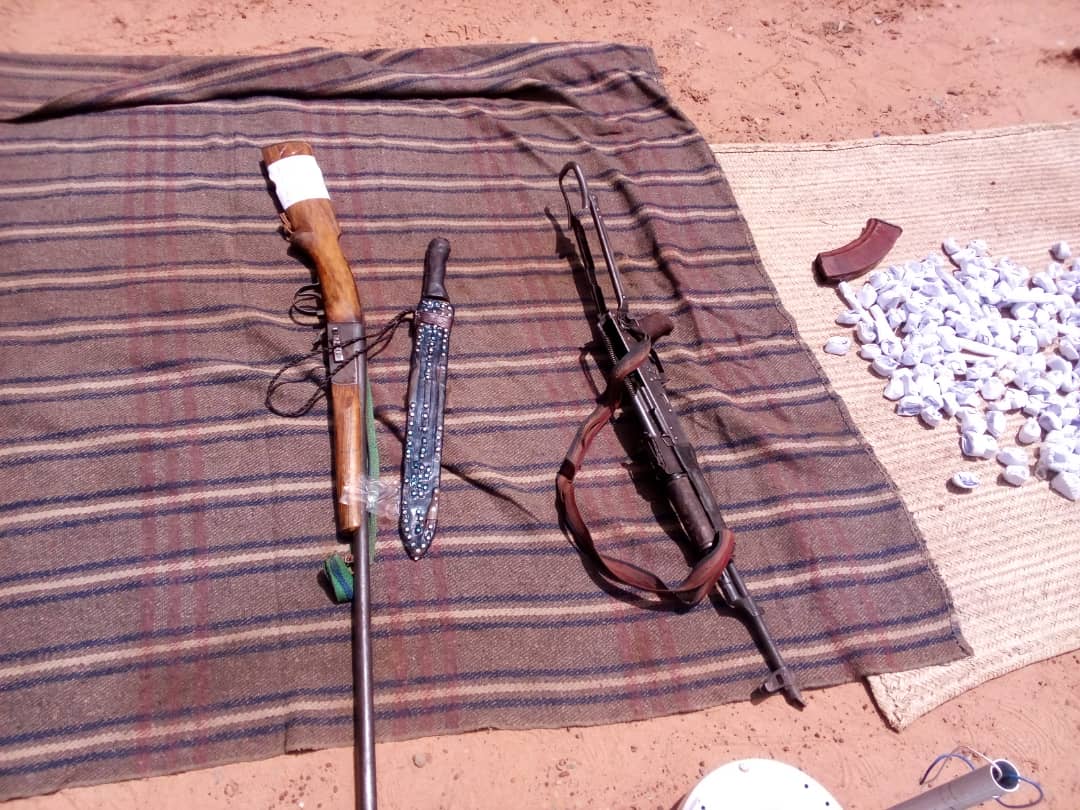 Kebbi State Police Command has paraded Woman who Allegedly killed her ex-husband Barrister Attahiru Ibrahim, recovered abandoned Firearms and ammunitions, Cars and Motorcycles snatchers, Castle Rustlers and other high profile criminals who were arrested in the state.
Parading the suspect, the commission of Police , Kebbi Command, CP Ahmed Magaji Kontagora said the command is working round the clock to ensure crime free Kebbi State as directed by the Inspector General of Police, IGP Usman Alkali Baba.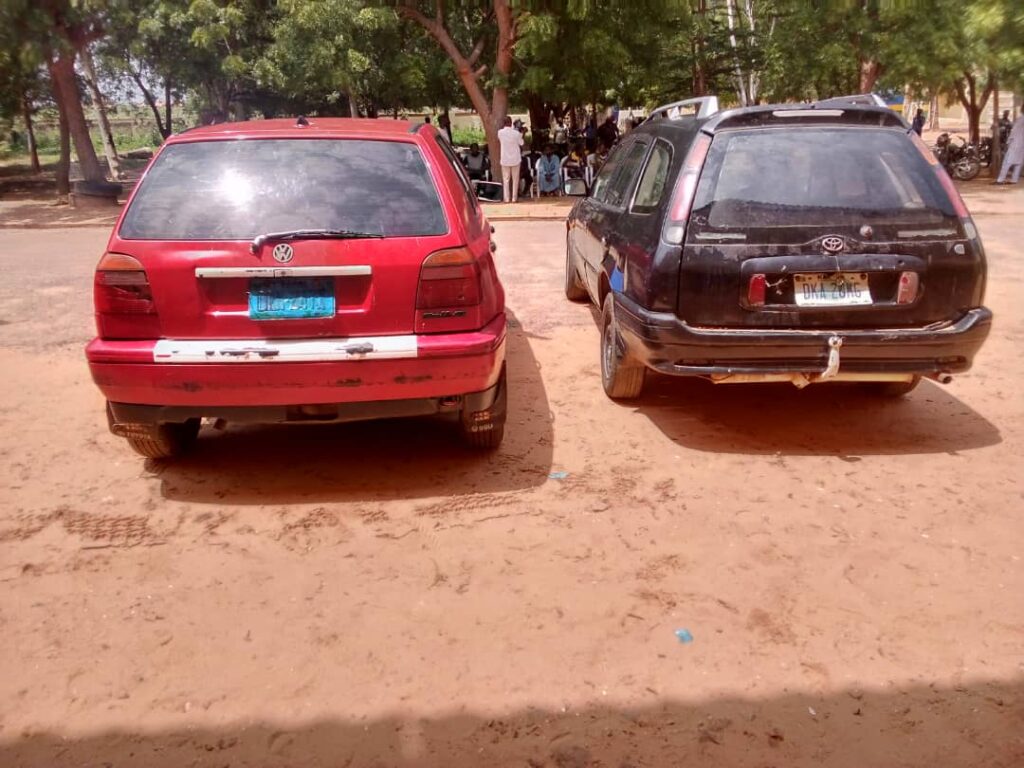 Read the the full text:
1. CRIMINAL CONSPIRACY, CULPABLE HOMICIDE, AND ARMED ROBBERY:- On 7/08/2022 at about 1921hrs, one Tasi'u Magaji 'm' of Kasalle village, and Mika'il Ibrahim 'm' of Farinruwa village all in zamfara State were attacked and robbed at gun point along Bena/Mairairai road. As a result, the said Mika'il Ibrahim was shot dead and the gang of brigands also made away with their two motorcycles, four bags of fertilizer and the sum of One Thousand, Nine Hundred and Fifty Naira (N1,950). On receipt of the report, a team of Detectives swung into action, trailed and arrested one of the suspects named Muhammad Lawali 'm' a.k.a Kaska. When interrogated, the suspect confessed to the crime and one single barrel gun and a machete were recovered in his possession. He is currently assisting the Police investigation towards the apprehension of the remaining gang members.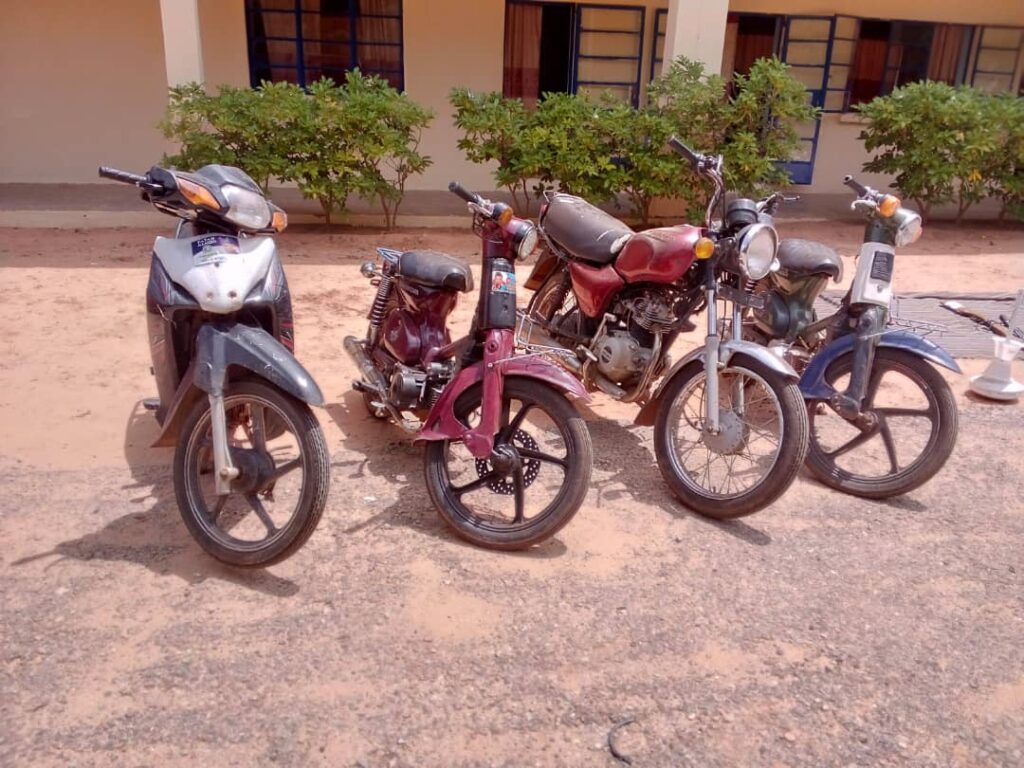 2. CRIMINAL BREACH OF TRUST, CHEATING, THEFT AND RECEIVING STOLEN PROPERTY:- On 16/08/200 at about 2200hrs, one Surajo Suleiman a.k.a CR-7 'm' of Jega town, dubiously made away with the following items: four (4) motorcycles, Seven (7) mobile cell phones keypad 2160 itel and Five (5) Android mobile cell phones. On receipt of the report, a team of policemen immediately responded and arrested the suspect. In the course of investigation, the suspect confessed to the crime and four Bajaj motorcycles have been recovered in his possession. Investigation is still in progress with a view to arresting all the remaining criminal receivers.
3. CRIMINAL CONSPIRACY, THEFT OF CATTLE AND BEING IN POSSESSION OF ANIMALS REASONABLY SUSPECTED TO BE STOLEN:- On 21/08/2022 at about 1700hrs, the suspects namely: one Manu Riskuwa and Muhammad Gide all 'm' of Tungar malan, Koko/Besse LGA conspired and trespassed into the residence of one Usman Muhammed 'm' of Kwanan Biri village, Bagudo LGA and stole his cattle. After following their foot prints, the two suspects were apprehended along Bagudo road in possession of the said stolen cows together with 57 other cows and 12 sheep which they could not give satisfactory account of. In the course of investigation, they mentioned one Garba Usman of Gidan Daji village, Maiyama LGA as the owner of the remaining cows. Hence, he was also arrested in connection with the case. Investigation is still ongoing.
4. CRIMINAL CONSPIRACY AND INTIMIDATION:- On 21/08/2022 at about 2222hrs, one Yakini Garba 'm' of Baure village, Sakaba LGA, conspired with one Babangida Makeri 'm' of Maraja village, Ilorin,Kwara State, hide their phone number, called one Aisha Abubakar 'f' of Dirin Daji town and intimidated her to give them the sum of Eight Hundred Thousand Naira (N800,000) to spare her life or else, they will kidnap and kill her. Investigation into the case is ongoing.
5. CRIMINAL CONSPIRACY AND CULPABLE HOMICIDE:- On 25/08/2022 at about 2100hrs, one Habibu Isah 'm' of Aliero Quarters, Birnin Kebbi, reported at the Gwadangaji Divisional Police Headquarters that, on the same date at about 1445hrs, he had a suspected strange noise from the house of his neighbor, one Bar. Attahiru Ibrahim. On receipt of the information, a team of policemen swiftly rushed to the scene and found the said Attahiru Ibrahim lying down in pool of his blood and was later confirmed dead by a Medical Doctor. When his house was searched, his ex-wife one Farida Abubakar 'F' aged 30yrs was seen hiding in a chicken cage of the house. Hence, she was suspected and arrested in connection with the case. The suspect will soon be charged to court accordingly.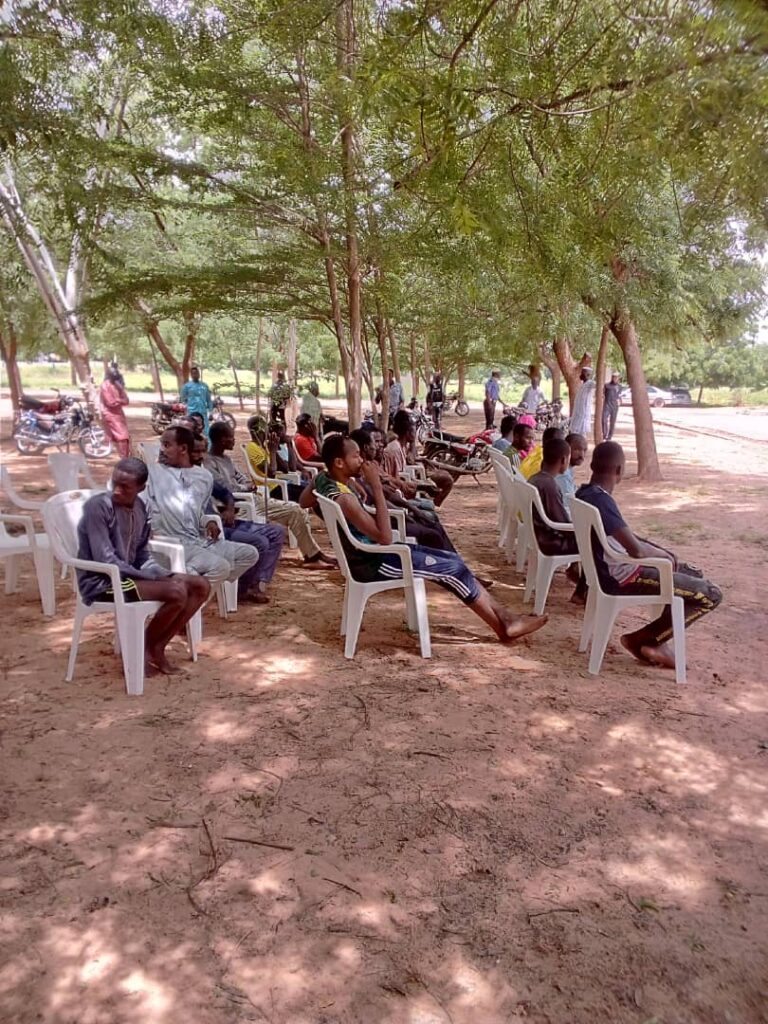 6. RECOVERY OF ABANDONED ARMS AND AMMUNITION:- On 26/08/2022 at about 1000hrs, information received revealed that, armed bandits were seen wandering in Tiggi area of Augie LGA. On receipt of the report, the Divisional Police Officer, Augie and his men immediately responded and pursued the bandits. Due to the Police high fire power, one of the bandits abandoned his AK47 rifle with twenty four (24) rounds of 7.62x39mm of live ammunition. Case is under investigation.
7. CRIMINAL CONSPIRACY, PUBLIC NUISANCE AND BEING IN POSSESSION OF ILLEGAL DRUGS:- On the 30/08/2022 at about 1600hrs, the DPO Mahuta raided a mining site situated at Maikende village and succesfully arrested the following namely: Tanko Bala 'm' of Kantu village, (2) Hassan Musa 'm' of ZBCC Dabai and (3) Ya'u Umar 'm' of Darangi village of Niger state respectively. When searched, the following items were found in their possession namely:
1. 320 wraps of dried leaves suspected to be Indian Hemp;
2. 15 tabs of Valium (D5) tablets;
3. 18 tabs of Ecxol; and
4. 8 tabs caplets of Tramadol.
Case is still under investigation.
8. CRIMINAL CONSPIRACY AND THEFT:- On 31/08/2022 at about 1730hrs, acting on intelligence, one Ibrahim Aliyu 'm' aged 22yrs and Zayyanu Isaka 'm' aged 25yrs all of Augie LGA, Kebbi State, were arrested in connection with a theft of ceiling fans belonging to Dr. Amina Government Girls Secondary School, Birnin Kebbi. In the course of investigation, 35 ceiling fans were recovered in their possession. The suspects will be charged to court after the completion of the investigations.
9. CRIMINAL CONSPIRACY, CRIMINAL TRESPASS, THEFT AND RECEIVING STOLEN PROPERTY:- On 01/09/2022 at about 0200hrs, a syndicate of thieves who specialized in rustling cows went to Sarandosa village, Maiyama LGA to perpetrate their evil intention. On receipt of the report, a team of Policemen attached to Divisional Police Headquarters, Maiyama, swiftly responded and succeeded in arresting one Abdulrazak Ibrahim Chindo and Maharajo Musa all 'm' of Jega and Maiyama LGAs and recovered one stolen cow in their possession, while the angry mob burnt down their operational car, Golf to ashes. In the course of investigation, the remaining gang members namely, one Nafi'u Ibrahim, a.k.a Onda, Shafi'u Musa, a.k.a Rago and Muhammadu Bello, a.k.a Danbaba, all 'm' of Jega and Suru LGAs were arrested. In the same vain, one stolen cow and one of their operational vehicles, Golf red in colour with Reg. No. BRK 24YX were also recovered. Investigation is ongoing.
10. CRIMINAL CONSPIRACY, THEFT AND RECEIVING STOLEN PROPERTY:- On the 08/09/2022 at about 1900hrs, while on patrol, a team of Policemen attached to Zogirma Divisional Headquarters, intercepted the following namely: Yunusa Ibrahim (2) Shamsu Umar and (3) Abdulrahman Abubakar all 'm' of Yauri town, in possession of fourteen (14) sheep. When questioned, they could not give satisfactory account and their operational vehicle, Toyota corolla with Reg. No. DKA 20MG was recovered. Hence, they were arrested. Case is under investigation.
11. CRIMINAL CONSPIRACY AND THREAT TO KIDNAP:- On the 09/09/2022 at about 0900hrs, one Alh. Sale Usman 'm' of Sabon layi village, Ribah District, Danko/Wasagu LGA reported that, he has been receiving threat of being kidnapped by an unknown caller, demanded the sum of One Hundred and Fifty Thousand Naira (N150,000) and succeeded in collecting the sum of Twenty Seven Thousand Naira (N27,000). On receipt of the report, Intelligence investigation led to the arrest of one Basiru Ibrahim and Abubakar Ibrahim. In the course of interrogation, Basiru Ibrahim confessed to the crime, while the cell phone and Sim card used in committing the crime were also recovered as exhibits. The case is still under investigation.
12. FRAUD:- On the 15/09/2022 one David Paul 'm' of Badariya area, Birnin Kebbi, working with the White Rouse Premium Rice Ltd, Zauro, dubiously asked one Kabiru Abubakar Abubakar 'm' of Bayan Oando area, Birnin Kebbi, a P.O.S. operator, to transfer the sum of Three Hundred Thousand Naira (N300,000) into another account. Subsequently, he cashed out the money for his personal use. Investigation is ongoing with a view to arresting other members of the syndicate.
In the light of the above, I want to use this medium to send a stern warning to all criminally minded persons in the State to either repent or carry their bags and relocate out of the state, if not, the long arm of the law will eventually catch up with them.
Similarly, I want to call on all law abiding citizens to always be watchful, vigilant and avail the Police and other Security Agencies with timely and accurate information that will assist in not making Kebbi State a safe heaven for criminal elements.
Thank you for your rapt attention and God bless.
CP. AHMED MAGAJI KONTAGORA,
COMMISSIONER OF POLICE,
KEBBI STATE COMMAND.