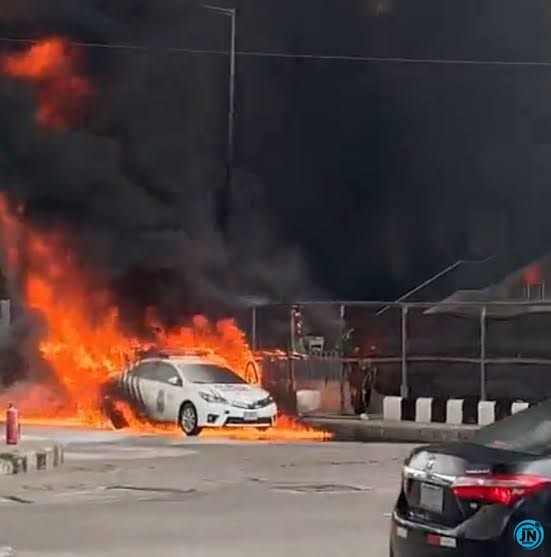 by Jungle Journalist
There are fears that no fewer than six persons have been burnt to death as fire gutted a building suspected to be occupied by a bank in Lagos State.
Report from Lagos says the massive fire was noticed in the early hours of today (Tuesday).
An eyewitness who spoke under anonymity said a generator in the compound exploded, leading to the fire outbreak. The incident occurred along Adeola Odeku Street, Victoria Island, Lagos.
Firefighters, said to be from nearby Eko Hotel and Suites, were chased away by bystanders who pelted them with stones
According to the witnesses, a car with three passengers, parked near the building where the explosion happened, caught fire.
The fire affected vehicles and other buildings around the premises.
Confirming the development, Nosa Okunbor, spokesperson of the Lagos State Emergency Management Agency (LASEMA), said officials of the agency are already at the scene of the incident.
He said the agency is monitoring the situation, adding that emergency teams are working to put out the inferno.
The affected building was said to be under construction.
Videos on social media showed a corpse being extracted from the scene while several persons suffered burns and injuries.
(Jungle Journalist)