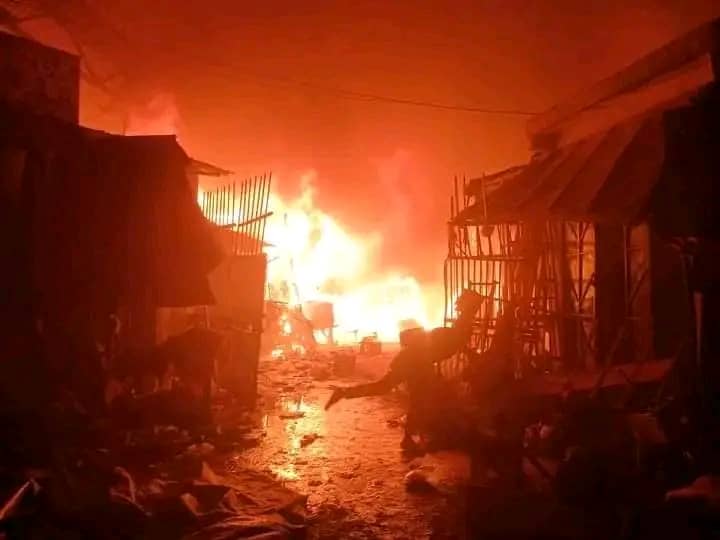 Governor Babagana Umara Zulum has approved the release of N1bn as emergency relief for the victims of Maiduguri Monday market fire.
The Governor announced this on Sunday in a broadcast to sympathize with the victims.
SMARTS NEWS has reported that the market was razed by the inferno in the wee hours of Sunday.
"We woke up today with a very sad and unfortunate fire disaster at the Maiduguri Monday market. This is very unfortunate but we believe that this is decreed by Allah. Inna lillahi Wa inna ilayhi raajiun. I feel deeply pained by this incident and I know how painful it is for anyone to work hard over years to build his or her business but end up losing that investment in seconds. I really feel the pains of everyone affected by this incident. I commiserate with all of you. I kindly and most respectfully urge you to be calm and patient. I know how bad you feel and insha'Allah, the Borno State Government is already taking the following measures to ameliorate the situation:
"1. I have approved the release of one billion naira as emergency relief for us to quickly support victims of the disaster because we know that some of them may even have difficulty of surviving the next few days. Many rely on daily businesses in order to cater for themselves.
"2. We are setting up an assessment committee that will comprise respectable individuals from our society including representatives of the victims, for us to speedily assess damages, and take comprehensive list of those affected and their loses. I will also be holding meeting with leadership of the market and representatives of victims.
"3. I am going to see Mr President and seek for presidential intervention on how to get support for victims.
"4. We will also reach out to other humanitarian establishments to seek help.
"5. Insha'Allah, we will be taking firm measures towards preventing reoccurrence of this fire disaster that has occurred in previous years.
"I will like to respectfully appeal to everyone for calmness. I know how you feel. I feel your pain and we will support you through whatever means we can, insha'Allah." Zulum said.
The Governor has also appealed to the people of the state to not politicize the incident.