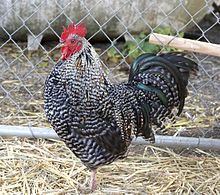 The Magistrate's Court at "Gidan Murtala" in Kano ordered a man Isyaku Shu'aibu from Ja'en area neighborhood to slaughter his cock.
His neighbor Malam Yusuf Muhammad Ja'en filed a complaint in the Court that the Cock belonging to Isyaku Shu'aibu was violating his rights by preventing him from sleeping with noise.
However, the defendant said, it is true that the rooster often cry with much noise and he planned to slaughter it on the "Good Friday" celebration, so he pleaded the Court to grant him permission until that day.
The presiding Judge Halima Wali granted him the request and ordered the rooster to be isolated and be slaughtered next Friday, which is the day of "Good Friday".