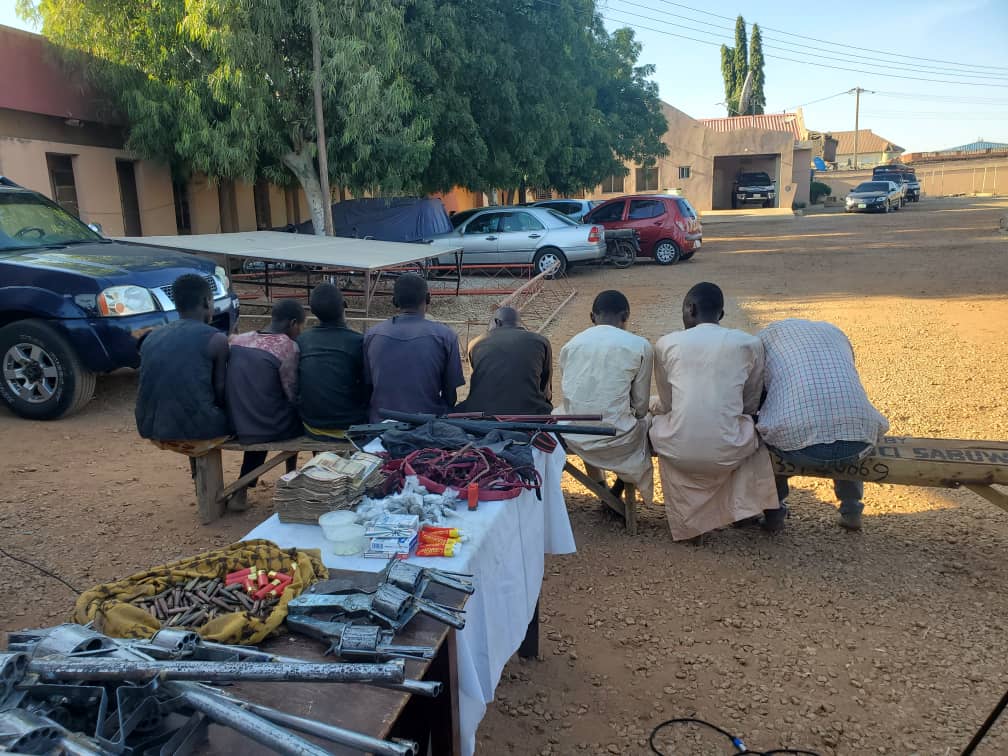 Tactical Operatives of Zamfara State Police Command have arrested terrorists and recovered 15 locally fabricated AK-47 rifles, 146 rounds of live ammunition, Indian helm and one million Naira cash.
Police public relations officer PPRO SP Shehu Mohammed who paraded the 8 suspects arrested and exhibit recovered said the feats were achieved through intelligence reports
He said Fraudsters from Kano State who specialized in defrauding innocent citizens at banks were arrested in Gusau and they confessed to committing the crime.
SP Shehu noted that the police operatives have also arrested kidnappers, cattle rustlers and Bandits informants.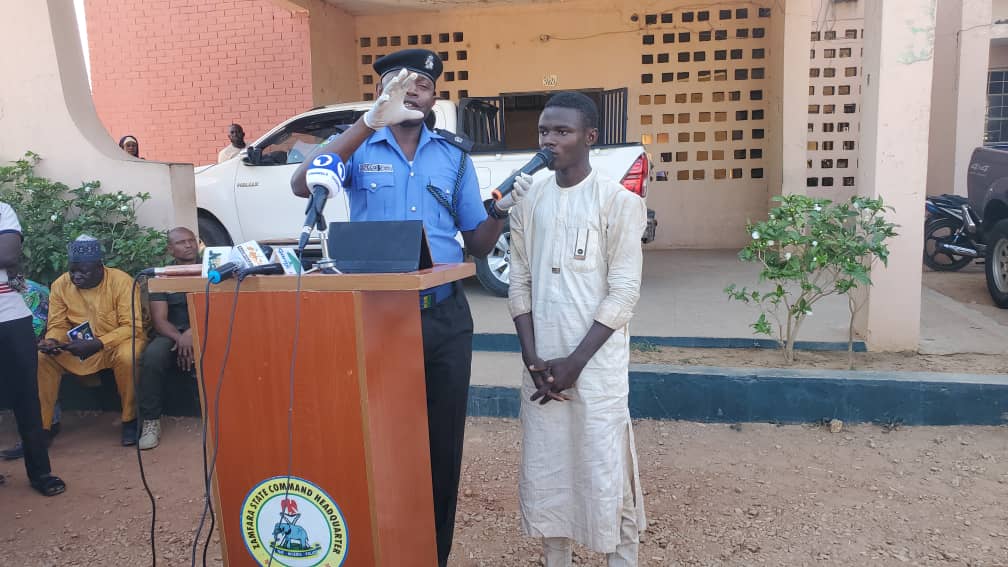 Read full text of the Press briefing;
ZAMFARA POLICE COMMAND RECORDS ANOTHER BREAKTHROUGH
Arrests Eight (8) Suspects for Banditry Related Offences, Criminal Conspiracy, Robbery and Fraud. Recovers Fifteen (15) Locally Fabricated Firearms, One Hundred and Fourty Six Rounds of AK 47 Ammuniton, Dried Leaves Suspected to be Indian Helm and the Sum of One Million Naira Cash As Exhibits.
The Zamfara State Police Command under the leadership of CP Kolo Yusuf psc has continued to sustain it onslaught against the activities of criminal elements across the state. The onslaught since it commencement had resulted in the unprecedented arrest of over two hundred and fifty suspects for Banditry related cases, as well as recovery of Arms and Ammunition ranging from AK 47, AK 49, Rocket lunchers, RPGs, GPMGs, Lar and other calibre of sophisticated rifles.
This effort has helped tremendously in stabilizing the security of Zamfara which was hitherto worrisome and disturbing. Below are some of the recent achievements recorded by the Command.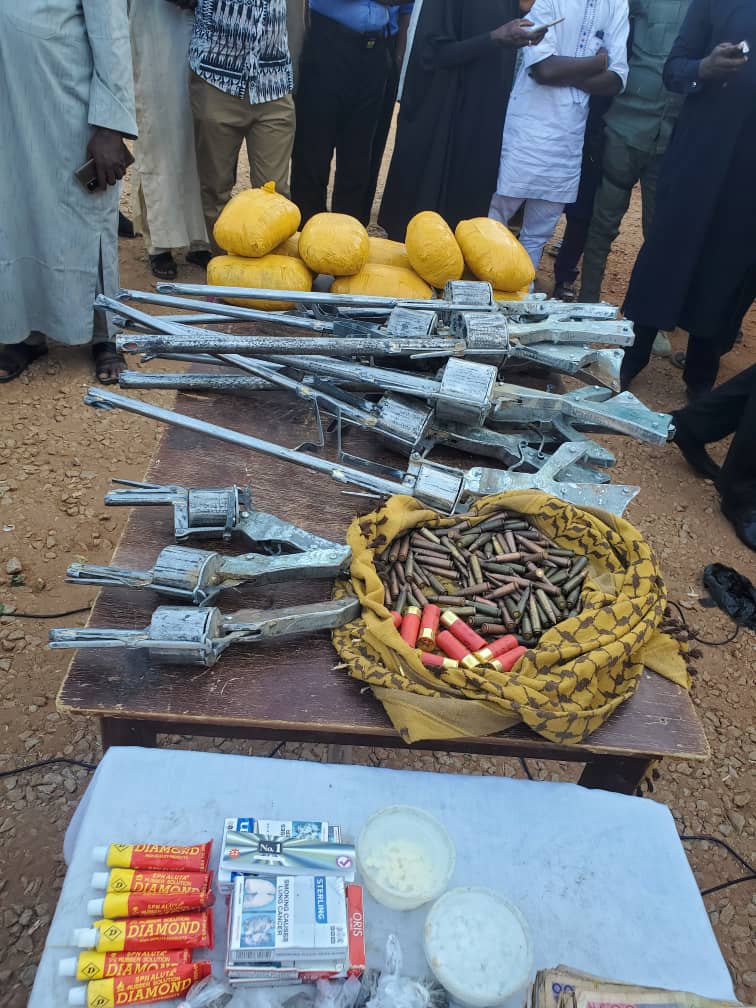 RECOVERY OF ABANDONED TEN (10) FABRICATED AK 47 RIFLE AND THREE (3) FABRICATED RIVOLVER PISTOLS ALONG MUNHAYE FOREST IN TSAFE LGA.
Police Tactical operatives on confidence building patrol along Tsafe – Munhaye forest, acted on intelligence report and conducted a rigorous patrol/stop and search with view to arresting some gun runners who were on their way to Munhaye forest to supply Arms and Ammunition to the bandits. The gun runners on noticing Police presence, abandoned the sack containing the Arms and Ammunition and fled into the thick forest. The Police operatives while on spot search, recovered the above mentioned exhibits. Drag net has been sprayed to arrest the fleeing hoodlums
ARREST OF THREE (3) FRAUDSTERS WHO SPECIALISE IN DEFRAUDING BANK CUSTOMERS AT VARIOUS ATM MACHINES IN KANO, KADUNA, KATSINA AND ZAMFARA STATES
NAME OF SUSPECTS :
1. MOHAMMED IBRAHIM AGED 34YRS OLD 'M' OF SHANONO LGA IN KANO STATE
2. IBRAHIM SALISU AGED 18YRS 'M' OF KUMBOTSO LGA
3. ABDULAZEEZ MOHAMMED AGED 18YRS OLD 'M' OF KUMBOTSO LGA OF KANO STATE RESPECTIVELY
EXHIBITS RECOVERED:
ONE MILLION NAIRA CASH(#1,000,000)
ONE HONDA ACCORD ANACONDA
On 24th January 2023, Police detectives acted based on complain by one Abubakar Lawali 'M' of Talata Mafara LGA. That on same date, while at the Zenith Bank ATM Gallery Talata branch, the above mentioned suspects conspired and defrauded him the sum of one million Naira (#1, 000,000) by withdrawing same from his account through a POS operator via his ATM Card. According to the complainant, the suspects succeeded in their action when they offered to help him to make withdrawal when he could not make the transactions due to network problem. They collected his ATM card and decietfully withdrew the money from POS operator. In the course of interrogation, all the suspects confessed to the crime and further stated how they carried out similar fraud at different banks in Kano, Kaduna, Katsina and Zamfara States respectively. The sum of One Million Naira (#1, 000,000) cash belonging to the complainant and a suspected Honda Accord Anaconda Vehicle were recovered from them as exhibits. Discreet investigation is in progress with a view to arresting other members of their gang and charge them to court for prosecution.
ARREST OF TWO (2) BANDITS INFORMANTS IN POSSESSION OF DANGEROUS DRUGS AND OTHER SUBSTANCES SUSPECTED TO BE INDIAN HELM AS WELL AS BEING INFORMANT TO BANDITS.
NAME OF SUSPECTS :
1. MURTALA MUSA AGED 26YRS 'M' OF KADO VILLAGE IN K/NAMODA LGA
2. MUSTAPHA LAWALA AGED 23YRS 'M' OF KASUWA DAJI IN K/NAMODA LGA
3. SHARHABILU TAJU AGED 21YRS OLD 'M' OF BELA VILLAGE IN BUNGUDU LGA
EXHIBITS RECOVERED
LARGE QUANTITY OF DRIED LEAVES SUSPECTED TO BE INDIAN HEMP
On 24th January, 2023 Police detectives acted on intelligence report and arrested the above mentioned suspects who were both residing in Bela village under Bungudu LGA. The suspects before their arrest were part of criminal syndicate that gave information to Bandits and also supplied all form of dried leaves suspected to be Indian helm and other dangerous drugs. Their actions have continued to aggrevate Attacks, Kidnapping and killing of innocent people of Bungudu, Kaura Namoda and Birnin Magaji LGAs by the bandits.
ARREST OF A NOTORIOUS CRIMINAL ELEMENT WHO SPECIALISES IN CRIMINAL CONSPIRACY, KIDNAPPING, CATTLE RUSTLING AND OTHER ACT OF CRIMINALITIES INCLUDING BEING AN INFORMANT TO THE BANDITS
NAME OF SUSPECT :
1. ALI ABDULLAHI AGED 46YRS OLD 'M' OF GUBUCHI IN KADUNA STATE.
On 23rd January, 2023, Police Operatives based on intelligence report arrested the above mentioned suspect. The suspect has been a member of criminal syndicate that have been operating in Kaduna, Zamfara and other Neighbouring states.
In the course of Police investigation, the suspect confessed that, on several occasions, he and other members of their gang participated in the Kidnapping of unspecified number of people and collected millions of Naira as ransom from the relations of the victims. He also confessed to have rustled unspecified number of cows and sheep. Suspect will be charged to Court for prosecution as soon as investigation is completed.
ARREST OF SUSPECT FOR CRIMINAL CONSPIRACY, ATTEMPTED CULPABLE HOMICIDE AND ANOTHER CASE OF CULPABLE HOMICIDE
ALL IN ANKA LGA
NAME OF SUSPECT:
GADDAFI ABDULLAHI AGED 32YRS 'M' OF BIRNIN TUDUN ANKA IN ANKA LGA
EXHIBITS RECOVERED :
TWO (2) LOCALLY FABRICATED FIREARMS AND TWO (2) CATRIDGES
On 22nd January, 2023, Police detectives acted on a complaint from the one Kasimu Abdullahi 'm' of of Anka arrested the above mentioned suspect for criminal conspiracy and attempted Culpable Homicide against the compainant. While investigation was ongoing, the suspect was equally identified by the family members of late Abdullahi Nakwada for allegedly killing their father sometime in 2022. The ongoing investigation revealed that the suspect was among the members of the outlawed group known as "Yansakai" who have been taking laws into their hands by intercepting and killing people and sometime rustling their animals on suspicion of being criminals without informing the police or any constituted authority. Effort being intensified to arrest his gang members and charge them to court for prosecution.
SP Mohammed Shehu Anipr,
Police Public Relations officer,
For : Commissioner of Police,
Zamfara State Command
Gusau.