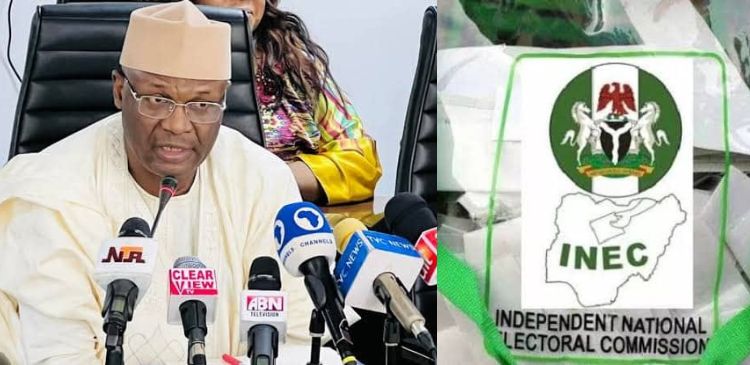 By Jibril Almustapha
The Independent National Electoral Commission (INEC) has banned all staff found negligent in the February 25 presidential and National Assembly elections from participating in March 11 governorship and state assemblies elections.
INEC Chairman, Prof. Mahmood Yakubu, announced this at a meeting with the Resident Electoral commissioners (RECs) in Abuja on Saturday.
"As we approach the governorship and state assembly elections, we must work harder to overcome the challenges experienced in the last election. Nothing else will be acceptable to Nigerians.
"All staff found to be negligent, whether they are regular or ad hoc officials, including collation and returning officers (ROs), must not be involved in forthcoming elections.
"RECs must also immediately initiate disciplinary action where prima facie evidence of wrongdoing has been established," Yakubu said.
He noted that Saturday's meeting is the third in less than two months and that like the last two meetings, the purpose was to discuss the conduct of the 2023 General Elections, arising from the presidential and National Assembly elections held a week ago, and with the governorship and state assembly elections holding next week.
He said, "It is imperative to review performance and assess preparations. No doubt, last week's national elections raised a number of issues that require immediate, medium, and long-term solutions.
"The planning for the election was painstakingly done. However, its implementation came with challenges, some of them unforeseen. The issues of logistics, election technology, behaviour of some election personnel at different levels, attitude of some party agents and supporters added to the extremely challenging environment in which elections are usually held in Nigeria."
The INEC boss said he appreciated the sacrifice and doggedness of Nigerians and the dignity and maturity displayed by political leaders even in the context of divergent views about the election.
Yakubu said a lot of lessons had been learnt and of immediate concern to the commission is how the identified challenges can be addressed as the nation approach the concluding phase of the general election involving the largest number of constituencies being 28 state governorship elections and 993 state houses of assembly seats.
(Daily Trust)